Disclaimer: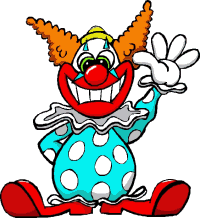 Disclaimer (for all of you legal-types out there)
The webmasters of FunClown.com do not claim to have created or directed any of the content on this website, unless otherwise mentioned. Any content that is posted will be credited to the original author, if such author is known, or can be found. If you are the original author of any of the content posted upon this page, and wish to credited for it, please e-mail: webmaster@funclown.com
Most pictures and cartoons are submitted by visitors or found on various sites on the web claiming to be freely distributable. If you own any of the content within that you think does not belong on my site, please contact me and I will gladly remove it. By viewing these pages, you agree not to hold me responsible for any content within the site.
Many of the images must have copyrights I figure, but not to my knowledge. If I could get an e-mail address off a cartoon or images, I'd ask for permission to place the image. However when they are signed with an autograph or not at all there is no way for me to find out who has the copyrights. If you can rightfully claim the copyrights on an image I shall give you the credit you deserve. Either put your name with the image, or make a link to your web-site. If you don't like the solution I have put before you, I shall delete the image instantly and never place it again.
FunClown.com is made for fun and to put a smile on your face, so do not take anything on this site too seriously.
Webmaster